Kimberley Broome to Kununurra or Darwin Bungles El Questro Mitchell Falls Tour 10 days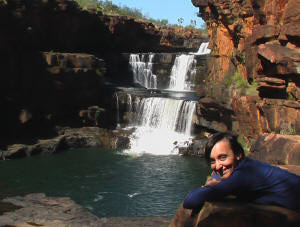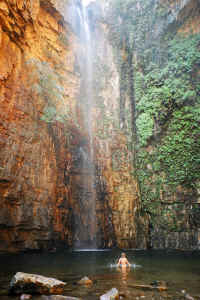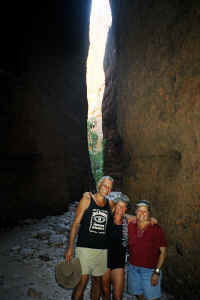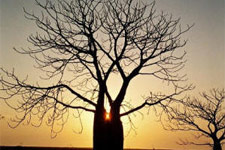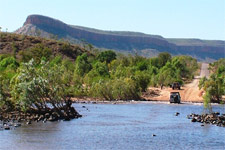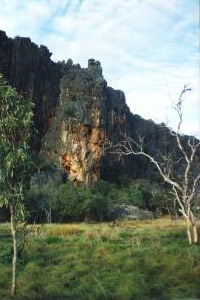 天數: 10 天 (左右)
位置: WA
产品编号: 20KBK10
Kimberley Complete Mitchell Falls Broome to Kununurra Darwin optionTour 10 days via Gibb River Road includes Mitchell Falls (2 Nights), Bungle Bungles (2N), El Questro (2N), Kununurra, 5 Rivers Lookout, Parry Lagoon, Galvan's Gorge, Windjana Gorges & Tunnel Creek, plus exceptional extra remote Aboriginal Rock Art sites and Aboriginal Art Centres

Enjoy spectacular Kimberley scenery and visit special Wandjina and Bradshaw (Gwion Gwion) art sites. Share this unique opportunity to learn ancient wisdom, recreating community and nature. Enriching and fulfilling experiences in the lands of the world's longest surviving culture. Experience incredible rock art galleries – learn about Aboriginal Lore, men and women's business, spirituality, bush medicines and food, language and history, ceremony, song and dance.
This Kimberley Broome to Kununurra Mitchell Falls Tour 10 Days
travel clockwise from Broome
via Windjana Gorge, Tunnel Creek, Imitji, King Leopold Ranges, Galvans Gorge, Manning Gorge, Mt Barnett, Mt Elizabeth Station, Drysdale Station, to Mitchell Plateau, Mitchell Falls, Bungle Bungles, El Questro plus Fitzroy Crossing with Geikie Gorge cruise on Fitzroy River, Mitchell Falls, King Edward River rock art, El Questro, Zebedee Hot Springs, Bungle Bungles walks & optional heli flight. Opportunity to meet Aboriginal elders and artists, visit Wandjina and Bradshaw rock art sites, swim in pristine waterholes on this Gibb River Road tour. Fully accommodated or camping options.

Unique features –
Accommodation Options available
Beautiful King Edward River and swim on Mitchell Plateau with Mitchell Falls walk and heli flight
Wrap up the Top End – Combine spectacular Kimberley scenery with Top End treats. Experience incredible rock art galleries – learn about Aboriginal culture, lore, men and women's business, spirituality, bush medicines and food, language and history, ceremony, song and dance. Visit special Wandjina and Bradshaw (Gwion Gwion) Aboriginal rock art sites. A unique opportunity to learn ancient wisdom, recreating community and nature. These are enriching and fulfilling experiences in the land of the world's longest surviving culture.
Tour itinerary – Kimberley via Mitchell Falls, Bungle Bungles, El Questro – Broome to Kununurra link options available)
Day 1 – Depart from Broome travelling through vast Savannah grasslands to Willare on the Fitzroy River. We visit the culturally significant Prison Boab Tree and Mowanjum Aboriginal Art Centre and Derby township. Heading east on the Savannah Way we arrive at Fitzroy Crossing which is an education and supply centre for surrounding cattle stations and Aboriginal communities. It is then a short drive to Geike Gorge for a 1 hour sunset cruise on the mighty Fitzroy River through the Devonian Reef. Overnight at Fitzroy Crossing. LD
Day 2 – We drive through the Devonian Reef / Napier Range to Tunnel Creek, well hidden in the fascinating geology of this limestone reef with its many boab trees and picturesque complex shapes. This is where the Aboriginal freedom fighter Jandamarra and the Bunuba Resistance was centred in the 1890s, depicted in 2 novels and a recent stage production. Here we can don torches and shorts to wade through this incredible underground river system full of stalagmites and stalactites and even an underground spring. Alternatively, take a short walk in the shady and refreshing surrounding area by the creek that feeds the underground water system. Travelling on we follow the range and cross through them again, to arrive for lunch and a short walk in Windjana Gorge National Park with abundant wildlife and numerous freshwater crocodiles in this eerie, ancient seabed environment – where the mega fauna roamed.
Driving on now on the Gibb River Road, we cross the Lennard River and pass through the ancient Devonian era Napier Range at Queen Victoria Pass. Our tour then climbs the King Leopold Ranges and we travel through the picturesque Inglis Gap and King Leopold Conservation Park. This is spectacular mountain country with impressive views over the ranges and vast woodlands and plains. We travel through vast Kimberley woodlands and river crossings to Bell Gorge for a walk and swim by the nearby picturesque waterfall Overnight Imitji / Bell Gorge Safari Camp
Day 3 – After a tasty breakfast arrive at the Imitji Aboriginal Community and store. Here we have unique Aboriginal artwork and one of the few real coffees you can find on the Gibb (except our BYO). Further on and time to enjoy a swim and relax at the easy to access and scenic Galvans Gorge with more Wandjina rock art and good swimming and photos too. We visit the beautiful Manning Gorge water hole which is large, picturesque and safe, surrounded by large paperbark trees. for swimming or relaxing. If time permits for active walkers, consider the energetic 3-4 hour return walk to Manning Gorge Falls (with swim) We stay here if camping or move on to Gibb River Station if accommodated for overnight BLD
Day 4 – We head off on the Gibb River Rd, turn off up the Kalumburu Road, traverse the Gibb River and arrive at Drysdale River Station then travel north through spectacular vegetation including cycads, pandanus palms and rainforests and ford the King Edward River before our overnight on Mitchell Plateau. Here we enjoy the waterfalls, swim and visit two vast galleries of Aboriginal rock art including Wandjina & Bradshaw / Gwion Gwion rock art. BLD Overnight on Mitchell Plateau
Day 5 – Today we traverse the Mitchell Plateau to Mitchell Falls and do the mid to easy 2 hour downhill walk via spectacular swimming pools and waterfalls. View several large rock art galleries and rock art sites with Wandjina and Bradshaw / Gwion Gwion rock art and other styles – (including Thylacine / Tasmanian Tiger rock art ) and swim in these beautiful clear freshwaters. This is one of the most remote areas of Australia. At Mitchell Falls base we have a couple of hours to relax and swim in these pristine, energised waters. We take the easy way out with the thrill of a spectacular helicopter flight ride over the Mitchell Falls & Merton Falls for a once in a lifetime view of this vast landscape and coastline. Options also available for extended flights to coastal areas (need to pre book with Spirit Safaris). Overnight on Mitchell Plateau at our King Edward River base. BLD
Day 6 – Leaving the Mitchell Plateau, we travel to the Gibb River Rd, and en route lunch at a peaceful waterhole, and view another rock art gallery. We travel country where some of the Australia The Movie scenes were filmed, and cross the Pentecost River adjacent the spectacular Cockburn Range. Overnight at El Questro. Dinner in restaurant own expense. BL
Day 7 – Relax and soak up the healing waters of Zebedee hot springs, before exploring more of the El Questro treats including a Chamberlain Gorge cruise, and views of El Questro and the Chamberlain River & Pentecost Rivers from Pigeon Lookout. Relax for a second night at El Questro. BLD
Day 8 – After a tasty breakfast, we travel on to Wyndham, Western Australia's most northerly town and awe at the landscape from Five Rivers Lookout, with views over the spectacular river systems and wetland flood plains feeding Cambridge Gulf. We visit the wetlands of Parry's Lagoon, a haven for wetland birds from afar. The bird life at Parry Lagoon is some of the richest in the Kimberley, with Brolgas, Jabiru, Whistling Ducks, Egrets, waders, and many more. Our day then takes us through rugged mountain scenery past the Argyle Diamond Mine to the Bungle Bungles safari camp for overnight – BLD
Day 9– Today we drive amongst the Bee Hive domes as we enter the Bungle Bungles in Purnululu National Park to marvel at this high energy amazing orange and black striped beehive landscape formed by giant river systems. Walk the spectacular Cathedral Gorge and Piccaninny Creek. After lunch a walk in Echidna Gorge. Optional scenic helicopter flights are also available approx $280 for 18 minutes – fantastic. Please ask – pre-booking recommended. Overnight at Bungle Bungles Safari Camp. BLD
Day 10 – We farewell the Bungle Bungles region today and stop at Turkey Creek and the Warmun Aboriginal Art Centre – where artist Rover Thomas and numerous other famous Aboriginal artists emerged. Here you can view the latest works, possibly meet the artists, and find some bargain art. After Turkey Creek, we arrive in the town of Kununurra after crossing the Ord River and travelling through the Ord River (Irrigation) Scheme. Kununurra is a prosperous productive centre of mining, agriculture, tourism, and Aboriginal art. Here we stock up supplies and can visit one of the largest Aboriginal Art galleries in the region. Tour completes Kununurra - accommodation own arrangements. Optionally Fly or coach to Darwin or Lake Argyle overnight and cruise

Inclusions
Ground tour and 3 km walk in to Bungle Bungles Cathedral Gorge & Picanninny Creek
Mitchell Falls walk and helicopter flight close and over the falls.
Cruise Chamberlain River Gorge at El Questro
Exceptional Aboriginal rock art – Wandjina, Bradshaw, Gwion Gwion
Professional and experienced driver / guides
Long established relationships with local Aboriginal people enriches experiences
Access to remote areas and rock art sites unreachable by most tour vehicles
Delicious meals including vegetarian options.
Accommodation in motels / cabin or ensuite safari camps is selectable as an extra when booking

Camping systems are easy & modern on comfortable mattresses or stretchers with bedding is included.
All World Heritage and National Park entry and accommodation fees

Aboriginal Art community visits for "direct from artist" purchases
Contributions of tour price supports Outback Kids and nature care programs.
You – and Your involvement in a creation much bigger than most can imagine
Exclusions
2 dinners own purchase in restaurants
Alcohol
Accommodation upgrades if required. Available most nights if pre booked
Flights to and from departure points
Connection to Darwin - fly coach or other options - please ask

Accommodation upgrade is available in most locations. Accommodation expenses in the Kimberley are high due to the remoteness of the infrastructure. We have kept the upgrade prices to a minimum.