Kimberley Broome to Darwin 6 day Tour via Bungle Bungle El Questro Tunnel Ck Windjana Emma Gorge Wyndham Zebedee Springs 6 days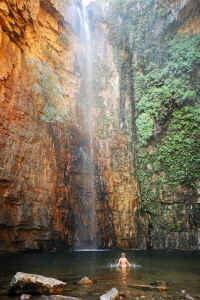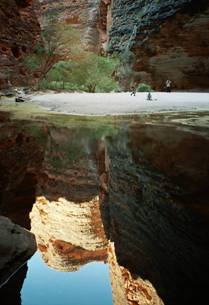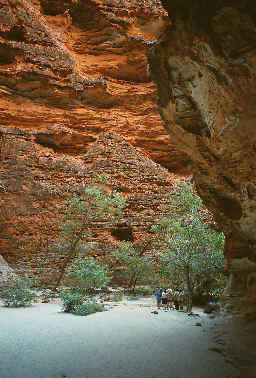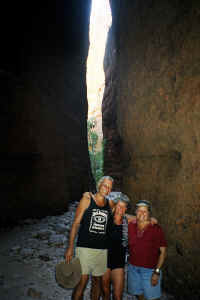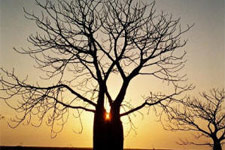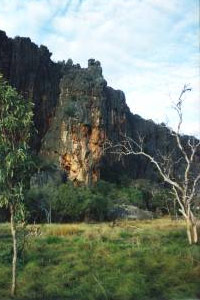 À partir de

AUD
5 985,00 $AU
Durée: 6 Jours (environ)
Lieu: Broome, Wa
Code produit: 20KBD6
Broome to Darwin Tour via Bungle Bungles with El Questro, Wyndham, Zebedee Hot Springs, Windjana Gorge, Tunnel Creek 6 Day Tour or add flights for 7 or 8 days
Travels Gibb River Road sections to Windjana Gorge and Tunnel Creek, and El Questro from Kununurra
Day 1 – Depart from Broome travelling through vast Savannah grasslands to Willare on the Fitzroy River. We visit the culturally significant Prison Boab Tree and Mowanjum Aboriginal Art Centre and Derby township. Travelling on the Gibb River Road, we arrive for lunch and a short walk in Windjana Gorge National Park with abundant wildlife and numerous freshwater crocodiles in this eerie, ancient seabed environment – where the mega fauna roamed.
We then follow the boabs and the Devonian Reef / Napier Range to Tunnel Creek, well hidden in the fascinating geology of this limestone reef with its many boab trees and picturesque complex shapes. This is where the Aboriginal freedom fighter Jandamarra and the Bunuba Resistance was centred in the 1890s, depicted in 2 novels and a recent stage production. Here we can don torches and shorts to wade through this incredible underground river system full of stalagmites and stalactites and even an under ground spring. Alternatively, take a short walk in the shady and refreshing surrounding area by the creek that feeds the underground water system.
Heading east we arrive at Fitzroy Crossing which is an education and supply centre for surrounding cattle stations and Aboriginal communities. Overnight accommodation at Fitzroy Crossing. LD
Day 2 – After breakfast enjoy a relaxing Darngku Geike Gorge river cruise on the vast Fitzroy River, and marvel at the high cliffs, annual flood records, stunning wildlife and river tales from our knowledgeable local guide. We then travel eastward on the Savannah Way to experience a 2 hour Aboriginal guided cultural experience at Mimbi Caves (subject to availability) before lunch at the picturesque Ngumban Cliffs. This is Mesa country with impressive views over the vast grassland plains and take a break at the scenic and bird lovers Marys Pool on the Mary River. Halls Creek is next with its gold mining history including the tale of Russian Jack, before the local Aboriginal Art Centre. Travel on to Mabel Downs Cattle Station and to the Bungles Bungles Safari Park for overnight. BLD
Day 3 – Experience the extraordinary Bungles Bungles in Purnululu National Park by 4WD and marvel at this high energy amazing orange and black striped beehive landscape formed by giant river systems. Enjoy and easy walk the spectacular Cathedral Gorge, amongst the Beehive Domes and Picaninny Creek and after lunch an optional walk in Echidna Chasm or to a nearby Osmand Lookout. Optional scenic helicopter flights available – 18 mins approx $300) Overnight Bungle Bungles Safari Park. BLD
Day 4 – We travel through Warmun and Turkey Creek then spectacular rugged granite mountain ranges past the Argyle Diamond Mine to El Questro Station on the Gibb River Road, under the Cockburn Range to explore El Questro treats including lunch by Jackaroos waterhole by a giant boab before we cross the Pentecost River at El Questro and join an afternoon cruise on the Chamberlain River Gorge. El Questro is a million acres of spectacular Kimberley scenery, rivers and gorges. Its here that the movie Australia was filmed, nestled under the Cockburn Ranges. After the cruise enjoy a spectacular sunset from Pigeon Lookout over the rugged Savannah landscape and the Pentecost River. Dinner at El Questros award winning outdoor restaurant overlooking the Pentecost River. Restaurant dinner own expense. Overnight at El Questro resort. BL
Day 5 – Zebedee hot springs are waiting for us this morning for a warm and relaxing soak in these natural springs among the Livingstonia Palms under the 1.8 Billion year old mountain ranges. An optional gorge walk to Emma Gorge sacred waterhole is available with a swim at the end in the refreshing waters under the waterfall.
Now we are heading to Wyndham and local history and highlights, before lunch at Five Rivers Lookout overlooking the spectacular Cambridge Gulf. After lunch its the RAMSAR listed Parry's Lagoon (Marglu Billabong) for the rich wetlands bird life including Jabirus and Brolgas, Whistling Ducks, Magpie Geese, waders and more and some quiet time in the Bird Hide. We now head back to Kununurra for overnight BLD
Day 6 – Two options today –
Option 1. Travel to Darwin overland by 4WD or 2 flights daily to Darwin - Tour cost includes 4WD travel to Darwin via Victoria River and Katherine. Arrive approx 7pm. Accommodation own arrangements.
Option 2. day 6 - Depart on a 6 am flight for Mitchell Falls – including majestic waterfalls, cattle stations, wilderness reserves and incredible coastal views will keep you enthralled all day. View the Ord Irrigation area, Cockburn Range, King George Falls, Berkeley River, Cambridge Gulf, Mitchell Falls and Wyndham mud flats. Land and hike 4.5km to Mitchell Falls and enjoy two thrilling helicopter flights. Optional helicopter alternative to the 4.5 km walk – as this is a difficult and uneven track with river crossings, which can be slippery. There is an option of taking a helicopter transfer instead of walking, this is an additional $145 per person. There is a limited time for the walk, therefore if you are unsure of your walking capabilities, please book the helicopter transfer. Return to Kununurra for overnight, and an evening meal and great stories from the days adventure BLD. This is a light aircraft flight day. Overnight Kununurra. (own costs)
Other options – take more time in Kununurra - and fly to darwin - 2 flights daily to Darwin
Day 7 - Consider optional cruises on Ord River, or visits to Ord River Scheme, Aboriginal art galleries, Zebra Rock Art galleries and the Sandalwood Factory. Alternatively, take a high speed boat cruiise up the Ord River to Lake Argyle, enjoy lunch and an afternnoon lake cruise, then return to Kununurra. or a night at Lake Argyle Resort and see their iconic "infinity pool" overlooking lake Argyle. Depart the Resort at 2.15pm for your transfer to the boat ramp where you will board the "Kimberley Durack" for a 3.5 hours sunset cruise on stunning Lake Argyle. Enjoy complimentary beverages and nibbles whilst swimming and watching the sun set over the majestic Carr Boyd Ranges. Overnight at Lake Argyle Resort. BLD
Day 8 - Fly or coach to Darwin
Darwin options to travel with Spirit Safaris to Darwin by 4WD (please ask - depends on dates) or direct flight (2 per day) or Greyhound coach
Kimberley Kununurra Lake Argyle Mitchell Falls 6-7-8 Day Tour
6 days Inclusions
4WD into Bungle Bungles & ground tour and walk into Cathedral & Piccaninny Creek
2 cruises – Geike Gorge cruise, Chamberlain River cruise
Professional and experienced driver / guides Long established relationships with local Aboriginal people enriches experiences
Access to remote areas and rock art sites unreachable by most tour vehicles
Delicious meals as shown, including vegetarian optional. Celebration dinner at journey end.
Accommodated sleeping

All World Heritage and National Park entry and accommodation fees
Aboriginal Art community visits for "direct from artist" purchases
Contributions of tour price supports Outback Kids and nature care programs.
You – and Your involvement in a creation much bigger than most can imagine
Exclusions for Kimberley Kununurra Lake Argyle Mitchell Falls Tours 7-8 Day Tours
1 dinner own purchase in restaurant. Alcohol
Flights to and from departure points
Kimberley Kununurra Lake Argyle Mitchell Falls Tours 6-7-8 Day Tour
6 days – Broome to Darwin Tour via Bungle Bungles with El Questro, Wyndham, Zebedee Hot Springs, Windjana Gorge, Tunnel Creek, Includes all fees, meals as stated.
For extended days with flights and cruise costs see extras when proceeding on this booking link